P-ISSN 2587-2400 | E-ISSN 2587-196X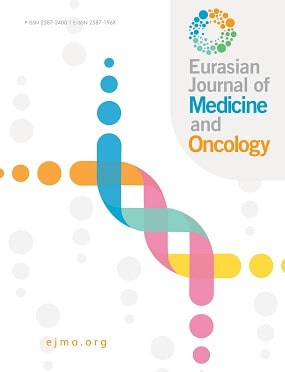 EJMO Sponsors
Glead
Pfizer
Roche
Amgen
Astellas
Bristol-Myers Squibb
Arven
Johnson Johnson
Merck
Novartis
Omnigen
Mustafa Nevzat
TEVA
Trpharm
Sandoz
Ahead of Print | DOI: 10.14744/ejmo.2020.42771
ROS1 Rearrangement in Non Small Cell Lung Cancer: Where We are and Where We are going to.
Olga Nigro1
,
Alessandro Tuzi1
,
Graziella Pinotti1
1Department of Medical Oncology, ASST Sette Laghi, Ospedale di Circolo e Fondazione Macchi, Varese, Italy.,
ROS1 is now recognised as a distinct molecular target in NSCLC. ROS1 rearrangements are identified in 1–2% of non-small cell lung cancer (NSCLC) patients. A total of 17 different fusion partner genes of ROS1 in NSCLC have been reported. ROS1 detection assays include fluorescence in situ hybridization, immunohistochemistry, and real-time PCR. Next-generation sequencing (NGS) assay covers a range of fusion genes and approaches to discover novel receptor-kinase rearrangements in lung cancer. Studies based on in vitro and in vivo models and studies of several fusion-positive patients indicate that inhibiting the kinase activity of ROS1 fusion proteins is a promising therapeutic strategy. Several potent and selective inhibitors against wild-type and mutant ROS1 were designed and synthesized. In this article, we will review a series of scaffolds targeting ROS1 kinase from the hit-to-drug evolution strategies.
---
Cite This Article
Nigro O, Tuzi A, Pinotti G. ROS1 Rearrangement in Non Small Cell Lung Cancer: Where We are and Where We are going to.. EJMO. 2020; (): -
Corresponding Author: Olga Nigro