P-ISSN 2587-2400 | E-ISSN 2587-196X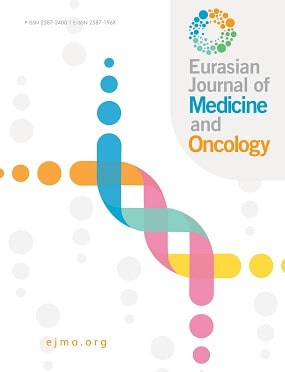 EJMO Sponsors
Glead
Pfizer
Roche
Amgen
Astellas
Bristol-Myers Squibb
Arven
Johnson Johnson
Merck
Novartis
Omnigen
Mustafa Nevzat
TEVA
Trpharm
EJMO. 2017; 1(4): 216-223 | DOI: 10.14744/ejmo.2017.74046
Adolescent or Advanced Age Pregnancy: What About Quality of Life?
Elif Yilmaz
1
1Department of Obstetrics and Gynecology, Dr. Sami Ulus Women's and Children's Health Teaching and Research Hospital, Ankara, Turkey,
Objectives: The aim of this study was to evaluate the impact of age and other socio-demographic factors that may be associated with poor health status during pregnancy. Methods: Of a total of 300 pregnant women included in the study, 100 were adolescents (≤19 years), 100 were average-aged (20 to 34 years), and 100 were of advanced age (≥35 years). After obtaining sociodemographic and obstetric information in a face-to-face interview, the women completed the Short Form 36 Health Survey (SF-36) questionnaire. The SF-36 scores were compared between groups. Results: It was determined that the quality of life (QoL) scores in pregnancy were generally lower when compared to non-pregnant women. All of the QoL subscores were found to be significantly higher in the average-aged group (p=0.000). The physical component summary (PCS) scores were found to be lowest in the advanced-age group, and the mental component summary (MCS) scores were lowest in the adolescent group (p=0.000). Except for the PCS, which was higher in the adolescent group, no statistically significant difference in the other subscores was found between the adolescent and advanced age groups (p=0.000). According to multivariable regression analysis, age, unplanned pregnancy, lack of sharing problems with spouse/relatives, and uneasiness within the family were found to be associated with poorer PCS and MCS scores. Conclusion: Both healthcare professionals and the individuals closest to pregnant women need to be aware of the importance of both physical and mental factors in maternal well-being, especially in adolescent and advanced-age groups.
---
Cite This Article
Yilmaz E. Adolescent or Advanced Age Pregnancy: What About Quality of Life?. EJMO. 2017; 1(4): 216-223
Corresponding Author: Elif Yilmaz
Full Text PDF
PDF Download