P-ISSN 2587-2400 | E-ISSN 2587-196X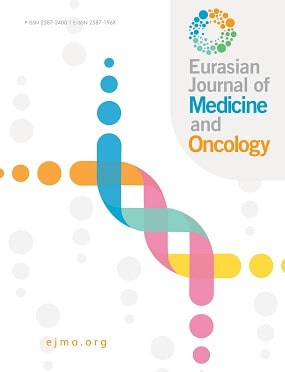 Ahead of Print | DOI: 10.14744/ejmo.2017.44154
A case of thyrotoxic hypochalemic periodic paralysis
Yilmaz Inanc
1
, Deniz Tuncel
1
, Mustafa Gokce
1
, Hamza Sahin
1
, Songül Bavli
1
, Yusuf Inanc
2
1Kahramanmaraş Sütçü İmam Üniversitesi Tıp Fakültesi,
2Gaziantep Üniversitesi Tıp Fakültesi,
Periodic paralysis is a rare hereditary disorder which is characterized by recurrent muscle weaknesses due to the mutations within sodium, potassium or calcium ion channels. hypokalemia, normokalemia and hyperkalemia may be observed during the attacks. The atta-cks are usually occur by triggering factors such as by stress, cold, in¬fection, excessive exercise, and high carbohyd¬rate food consumption. Thyrotoxic hypokalemic periodic paralysis is one of the rare causes of widespread muscle weakness.Since the patient carries all the clinical and demographic features of the disease, the case was deemed appropriate to be presented.
---
Cite This Article
Inanc Y, Tuncel D, Gokce M, Sahin H, Bavli S, Inanc Y. A case of thyrotoxic hypochalemic periodic paralysis. EJMO. 2018; (): 0-0
Corresponding Author: Yilmaz Inanc