P-ISSN 2587-2400 | E-ISSN 2587-196X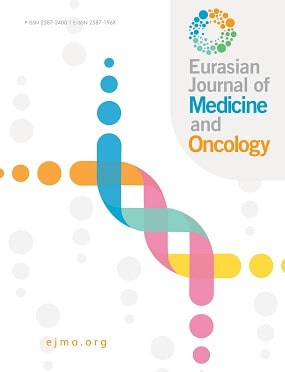 EJMO. 2018; 2(1): 43-45 | DOI: 10.14744/ejmo.2017.42714
Proliferating Trichilemmal Tumor of the Scalp
Fatih Yakar
1
, Pinar Imre
2
, Gunes Deniz
2
, Emrah Celtikci
1
1Department of Neurosurgery, Kars Harakani Hospital, Kars, Turkey,
2Department of Pathology, Kars Harakani Hospital, Kars, Turkey,
A proliferating trichilemmal tumor is an uncommon, benign, and well-circumscribed hair follicle tumor. It is also called proliferating pilar cyst of the scalp. The tumor has an unclear pathogenesis, but it is often derived from a pre-existing trichilemmal or pilar cyst and is more common in women. The tumor has a slow-growing nature and capacity to be malignant. A 55-year-old female was admitted to Kars Harakani Hospital Neurosurgery Department with a scalp lesion that was growing for 1 month and was infected. Although scalp lesions are frequently encountered in daily neurosurgical practice, proliferating trichilemmal cysts are quite a rare entity, and neurosurgeons should be aware of trichilemmal tumors during differential diagnosis.
---
Cite This Article
Yakar F, Imre P, Deniz G, Celtikci E. Proliferating Trichilemmal Tumor of the Scalp. EJMO. 2018; 2(1): 43-45
Corresponding Author: Fatih Yakar
Full Text PDF
PDF Download