P-ISSN 2587-2400 | E-ISSN 2587-196X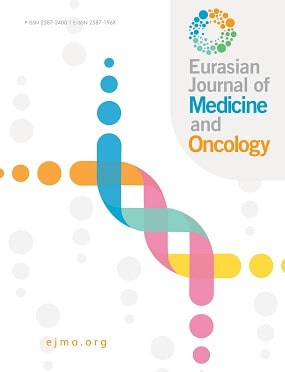 EJMO Sponsors
Glead
Pfizer
Roche
Amgen
Astellas
Bristol-Myers Squibb
Arven
Johnson Johnson
Merck
Novartis
Omnigen
Mustafa Nevzat
TEVA
Trpharm
EJMO. 2018; 2(1): 49-51 | DOI: 10.14744/ejmo.2017.35229
A Case of Mature Cystic Teratoma Mimicking a Pericardial Cyst
Elcin Ersoz Kose
1
, Mustafa Vayvada
1
, Mustafa Akyil
1
, Deniz Gurer
1
, Yelda Tezel
2
, Cagatay Tezel
1
1Department of Thoracic Surgery, Health Sciences University, Sureyyapasa Training and Research Hospital, Istanbul, Turkey,
2Department Of Chest Disease, Haydarpaşa Numune Training And Research Hospital, Health Science University, Istanbul, Turkey,
The majority of mediastinal germ cell tumors are teratomas. Placement in the anterior mediastinum of the thorax is common, and placement in other compartments of the mediastinum and parenchyma can be observed as well. The main aim of treatment of mature and immature teratomas is complete removal of the mass without complications. Excision provides cure and its prognosis is very good. In this case, we aimed to disscuss the case of a 22-year-old patient with anterior mediastinal involvement, which was first thought to be an anterior cystic pericardial cyst and was determined to be a mature cystic teratoma during resection.
---
Cite This Article
Ersoz Kose E, Vayvada M, Akyil M, Gurer D, Tezel Y, Tezel C. A Case of Mature Cystic Teratoma Mimicking a Pericardial Cyst. EJMO. 2018; 2(1): 49-51
Corresponding Author: Elcin Ersoz Kose
Full Text PDF
PDF Download