P-ISSN 2587-2400 | E-ISSN 2587-196X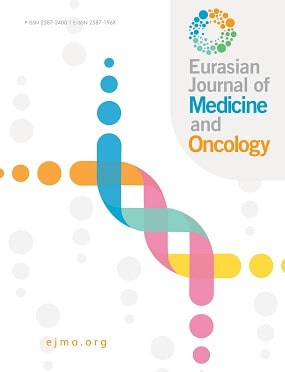 EJMO Sponsors
Glead
Pfizer
Roche
Amgen
Astellas
Bristol-Myers Squibb
Arven
Johnson Johnson
Merck
Novartis
Omnigen
Mustafa Nevzat
TEVA
Trpharm
EJMO. 2017; 1(3): 145-148 | DOI: 10.14744/ejmo.2017.02996
Thyroid Hormone and Ultrasonographical Analyses in Patients with Nickel Allergy
Mumtaz Takir
1
, Ozlem Turkoglu
2
, Zafer Turkoglu
3
1Department of Internal Medicine, Clinic of Endocrinology and Metabolism, Istanbul Medeniyet University, Goztepe Training and Research Hospital, İstanbul, Turkey,
2Department of Radiology, Haydarpaşa Sultan Abdulhamid Han Training and Research Hospital, Istanbul, Turkey,
3Department of Dermatology, Haseki Training and ResearchHospital, Istanbul, Turkey,
Objectives: Nickel allergy and thyroid functional disorders have been associated via various mechanisms. We aimed to biochemically and radiologically investigate the relation of thyroid disorder with nickel dermatitis, the frequency of which varies between 4% and 13% in the society. Methods: Seventy-nine patients diagnosed with nickel dermatitis who visited to our clinic and a healthy control group of 43 individuals were included in the study. Hemogram; peripheral smear; serum Fe, TDBK, ferritin, 25-OH vit D3, total IgE, thyroid hormone, and antibody levels; and thyroid ultrasonography of both groups were evaluated and compared statistically. Results: MPV and total IgE levels were significantly high in the patient group (p<0.01). In addition, monocyte and eosinophil levels were also low in patients with nickel allergy. Anti-TPO and anti-Tg levels in both groups were similar. On ultrasonography evaluation, there was a significant difference in the patients with nickel allergy with respect to thyroid findings (p<0.01). Conclusion: We observed that the incidence of nickel allergy increases in patients who were radiologically diagnosed with thyroiditis.
---
Cite This Article
Takir M, Turkoglu O, Turkoglu Z. Thyroid Hormone and Ultrasonographical Analyses in Patients with Nickel Allergy. EJMO. 2017; 1(3): 145-148
Corresponding Author: Mumtaz Takir
Full Text PDF
PDF Download